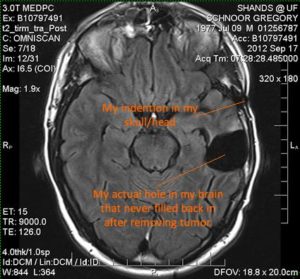 In September 2010, my wife and I were blessed with the birth of our baby girl. We were very happy to finally have a little girl after having three boys to start off with. Unfortunately one month after the birth of our daughter, I was diagnosed with a 2 inch brain tumor and had to have brain surgery to remove it at Shands Hospital located in Gainesville, Florida. Soon after the surgery, I was diagnosed with a rare type of brain tumor called Oligodendroglioma, which changed my life.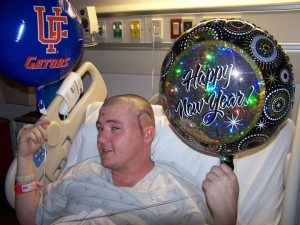 I started cancer treatment for the grade 3 malignant tumor with six weeks of radiation and combined it with taking chemo every day. After the initial cancer treatment, I continued to take chemo five days every month, have MRIs to check for updates, lab work and follow-up appointments for over four years up until March 2015.  I was finally taken off chemo since the cancer hadn't been growing and because it's not good to be on chemotherapy for that long as it can do more damage to your body than good with continued use.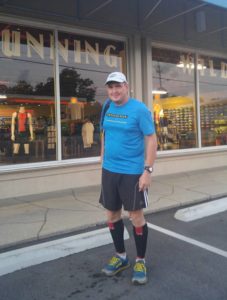 To cope with the changes in life, I turned focus on getting healthier and found running to be a great physical and mental medication, which has caused me to feel more healthier now than I ever have.  I've been told by on oncologist that he was convinced that because of my running, that is probably why I could tolerate my chemo so well.  I hope to share with others that just because you get a life threatening illness, it does not mean you should let it control your life.  Before running, the chemo would wear me out and I would ball up on the couch with my eyes shut (but not sleeping) and my brain would just wonder.  I remember feeling like I was trapped in my house and that I couldn't do anything but give-in to the lack of energy my body had.  But once I decided to start walking and progress further into running, things started to change for the better.  In fact, (and oddly enough) I feel my brain cancer has been a crazy type of a blessing to me because not only has it got me into getting healthier now,  but now I'm more focused on reaching my goals in life and I'm trying my best to bring some positivity into this world to help others anyway I can.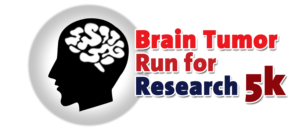 After getting into running I started running 5k races.  Shortly after, I started looking around for any 5k races that helped support brain cancer research.  After not finding any, I decided it was time to start one.  In 2013, the Brain Tumor Run/Walk for Research 5k was started in Pensacola and after four events, we have raised over $60,000 for 501(c)(3) non-profits.  I have made many friends and met many families from this event and it will forever be a part of my life.  Sometimes on my long distance runs, I think about others who have either passed away or are dealing with health related issues.  This helps me motivate myself to keep going further, either through running or through helping others by raising awareness and funding for brain cancer research.
Ultramarathon Running
When I run ultramarathon distances, I simply feel free and enabled to let any stress or negative thoughts go.  Especially when running through single track trails in a forest and seeing wildlife in their natural environment or viewing beautiful views most people miss out on, my love of running long distance adventures embraces my heart.  There's something about running ultramarathon distances that is hard to explain, especially to others who do not run them.  It's almost like all the negative things going on in my life are non-existent and I'm able to enjoy nature at it's finest.