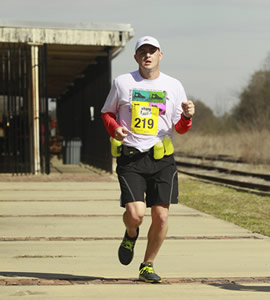 The 2014 Albany Marathon was officially my first marathon that I completed.  Months before it I had ran my first marathon, the 2013 Pensacola Marathon, but I ended up collapsing and passing out about a quarter mile from the finish line and was taken to the emergency room by ambulance.  After looking around for a marathon to do relatively soon, I ended up signing up for the Albany Marathon after a recommendation from Paul at Running Wild.  Choosing the Albany Marathon worked out great as another runner in my training group, Lesley, signed up for the race as well in effort to qualify for the Boston Marathon.
Once I got to the hotel and checked in, I went to the packet pickup and then to the pre-race dinner and listened to the guest speaker, Debbie Cropper.  Her speech got my attention and helped me get pumped up and focused for the marathon.  Since I was 0 for 1 in finishing a marathon at that time (due to passing out at the Pensacola Marathon), I needed the extra boost in determination.  To make things even better, I found out that she was the actual pacer for the 3:45 group that both Lesley and I were running in.
The morning of the race, I was pumped up and excited to finally finish my first marathon.  I found the 3:45 pace group and saw Lesley and her family before the start of the race too.  Then shortly after, the race started. My goal was to stay with the group and then break away from the group around mile 18-20.  I ended up breaking away earlier than I should have, maybe around mile 10.  I do remember one of the other guys in the group ended up passing me towards the end of the race, and remember thinking to myself that I should have waited longer to break away.  Regardless, I was enjoying the run, I wasn't sick and I was focused on crossing the finish line my first time.
The course ran all around parts of Albany and through neighborhoods and I only remember one hill and it seemed a little easier than I was expecting.  My favorite part of the route was at the very end when you run through an old train station, right before you get to the home stretch to the finish line.  The race photographer was positioned there and he took one of my favorite race photos of me (most of my race photos are horrible, but I really liked the overall look of the one he took there and I used it for my picture in the book, Born Again Runner by Pete Magill).  Shortly after the seeing the photographer, I could see the finish line coming ahead.  I finished up strong and completed with an average min/mile pace of 8:21 and total time of 3:39:13.
Race Day Photos